Pat & Darlene Hicks – 2015 Night Race Blue Coupe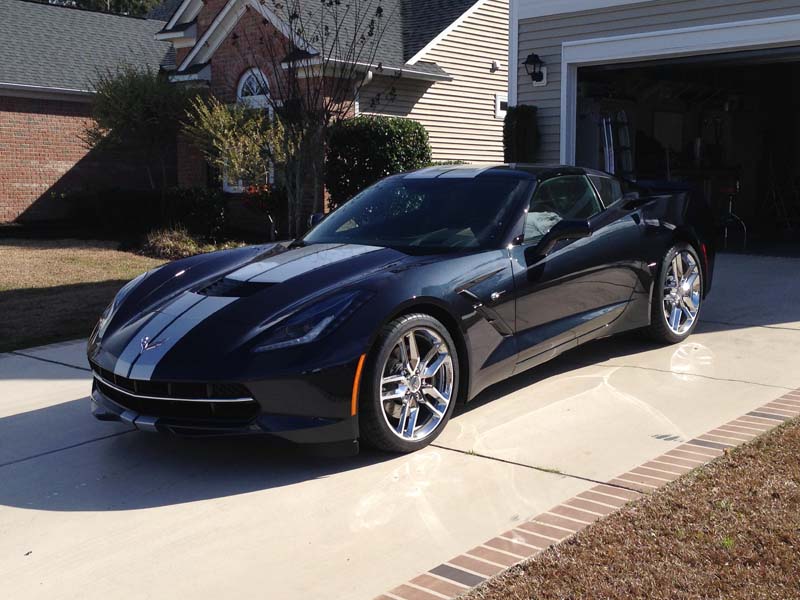 Pat was born in Rockaway Beach, NY and Darlene was born in Washington, DC we met after graduating High School and married in 1972. Darlene worked her way up from a receptionist at the National Sheriffs' Association to the Position of Director of Finance where she worked until 2012 when she went part-time. Pat worked for Potomac Electric Power Company (Washington, DC) in Operations for the first 27 years and then working in the Information Technology field for the last 10 years. He retired in 2007 and became a Real Estate Agent for Exit Realty. They live happily in Murrells Inlet and have two daughters, one son-in-law and three grandchildren.
Maynard & Debbie Robinson – 2015 Shark Gray Stingray Coupe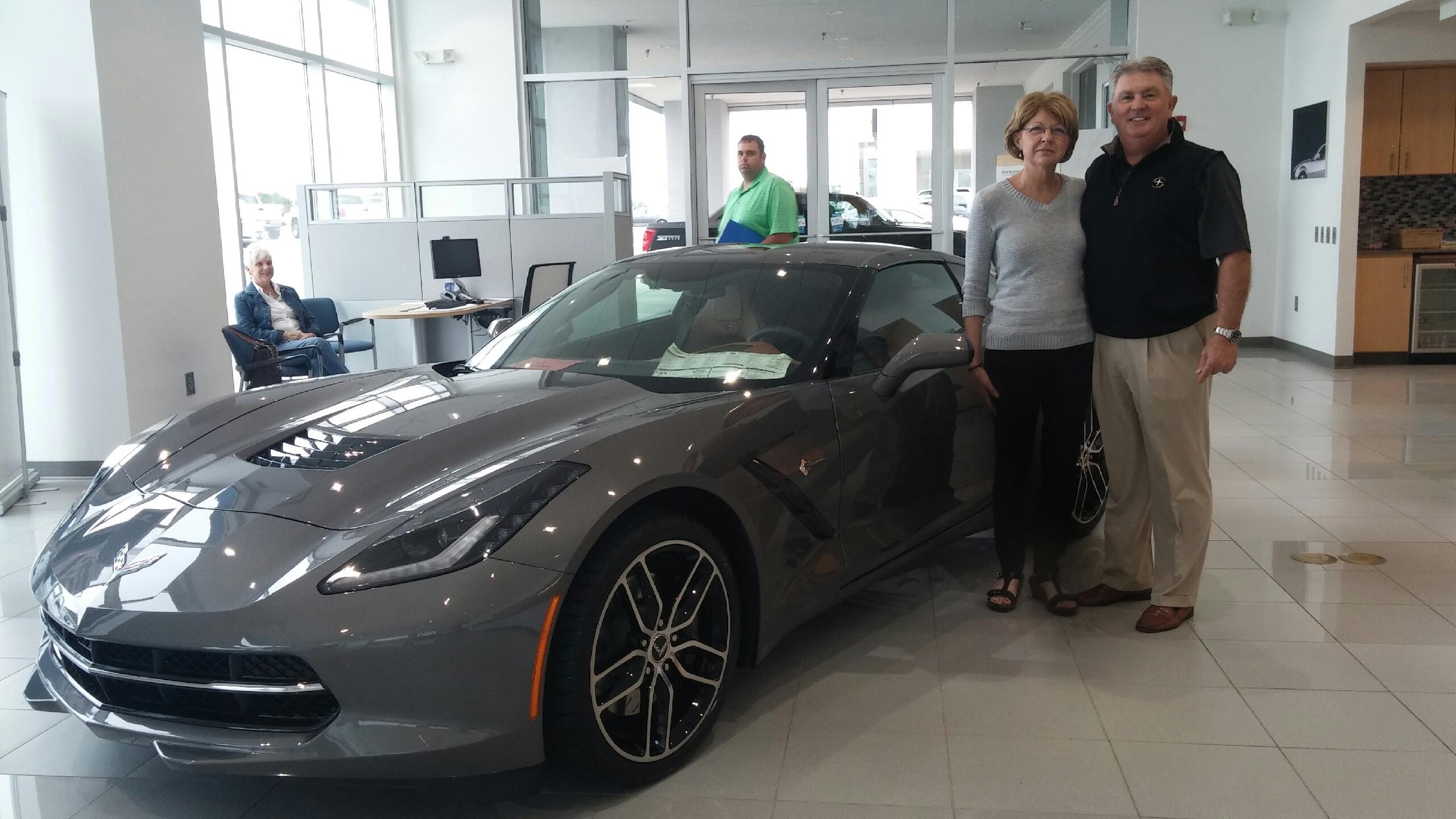 Maynard and Debbie live in Conway . Debbie was born in Conway, Maynard in Galax VA. Married in 1995. Debbie works for New South Companies in Myrtle Beach , 28 years. Maynard retired from the Air Force in 1993, and then worked for ProBuild until 2012 when he retired. They have a son and two grand kids.
Dick & Pam Mahany – 2015 White Stingray Coupe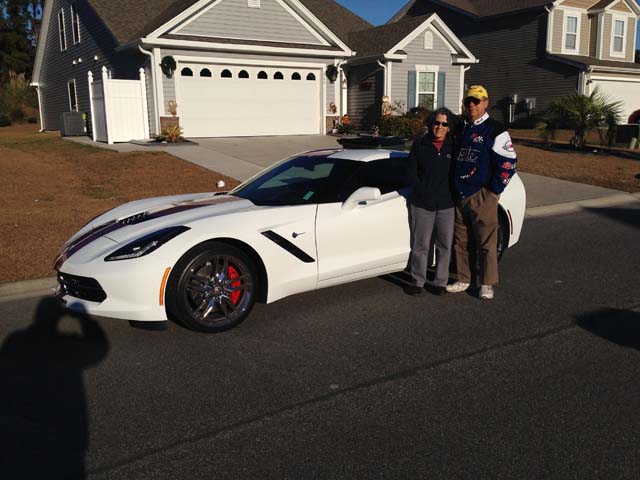 Pam and Dick are DeBordieu residents. Both Penn State grads in 1968, they have been full time residents for the past four years after having been part time since their first Carolina house was built in 1999. Dick is a former banker having retired from Integra Financial of Pittsburgh Pa. in 1996. Pam is a volunteer in the Butterfly house and green house at Brookgreen Gadens. She also teaches knitting, spinning and anything yarn. Dick does a little work in a wood shop he has built at his new house mainly building bird houses and wine cork trivets. Pam and Dick are founding members of Grand Strand Corvettes after leaving the Myrtle Beach Corvette Club.
Their 2008 Corvette Convertible with the American Flag on the hood is their third Corvette after a 1973 and a 1992. The brilliant Jetstream Blue color really accents the flag. They have two children, Reed in Cranberry Township, Pa. and Wendy DeMello their next door neighbor in DeBordieu. Rylan Mahany, Lauren Mahany and Venus DeMello are their grandchildren.
David & Linda Smith – 2015 Shark Gray Stingray Coupe & 1988 – White 35th Anniversary Coupe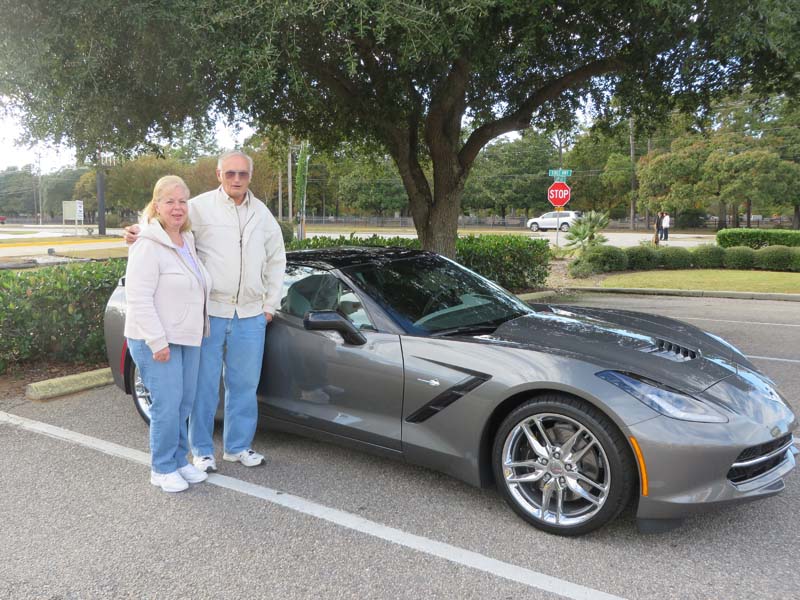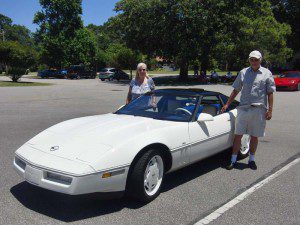 Both Dave and Linda were born in upstate New york. After graduation Dave served three years in the Army. Later he went to work for Stiefel Laboratories, working his way up to management, retiring in the fall of 2002 after 32 years with the company. After graduation Linda went to work for the N.Y.P.D. and then worked at Helenes Dress Shop where I met Dave in the fall of 1970 and we were married in May 1971. After our two girls were born I went back to work at Victory Markets, which later became Slaters Great American working in the receiving department, retiring in the winter of 2003 after 15 1/2 years. Our daughter Sherri and grandson Matthew live in central New York, our other daughter Cheryl and grandson A.J. live in Connecticut. We owned two other corvettes in the past, a 1982 coupe and then a 2001 convertible. Our 1988 35th anniversary is a special edition car, it's #352 out of only 2050 produced.
Sam & Deb Coccia – 2003 Millenium Yellow Convertible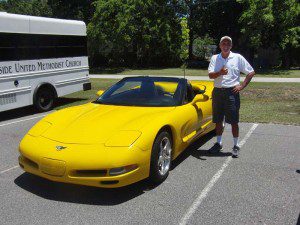 Both of us were born in the Lehigh Valley/Poconos regions of PA. We spent most of our years living and working in various cities/towns of PA, relocating to the Myrtle Beach area when we retired in the year 2010. I worked in the Purchasing/Inventory Management field in a manufacturing environment and Deb worked in the Customer Service also in a manufacturing environment. Our corvette experience started out with a Black C4 and we are now driving a Yellow C5 convertible. We joined the GSCC a couple of years ago and have thoroughly enjoyed the club activities and fellowship.
Bill & Dianne Shipley – 2004 Torch Red Coupe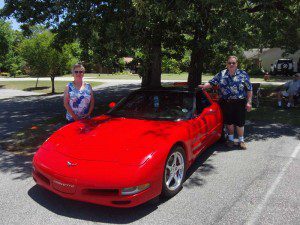 Mickey & Eileen Sharp – 2014 Night Race Blue Stingray Convertible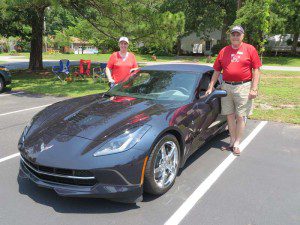 Eileen and Mickey were born and grew up on the North Shore of Massachusetts.  They met in 1961 and were married in 1963. Mickey spent his entire career in heavy manufacturing; steam turbines, printing presses and steel mill equipment. He retired in 2006 as Director of International Sourcing. Eileen spent her career in administrative positions retiring as Member Services for Corridor 9 Chamber of Commerce.
They moved to Conway from Grafton, Massachusetts when they retired. They have one son, Derek and 5 grandchildren from 23 to 13. Their first Corvette was a 1965 Convertible, along came our son and away went the Corvette. It was 2009 before they got back into a vette with a C4, then a C6 in 2010 and now a C7.
Dr. Dick Mgrdechian- 2014 Cyber Grey Stingray Coupe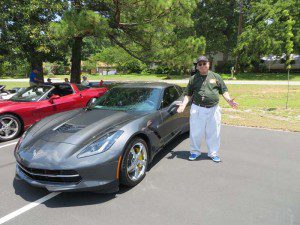 I was born in New Jersey, but, was raised on Long Island.  I went to undergraduate school at the University of Charleston where I obtained an A.S. degree in Radiology in 1978 and a B.S. degree in Biology in 1980.  While working for my BS degree I worked at the Charleston Area Medical Center; first operating a First Generation CAT Scanner and then in the Emergency Room X-Ray Department on weekends, midnight shift.  I attended New York Chiropractic College and Graduated in 1985, obtaining a License to Practice in October.  I operated newer full body CAT Scanner while working my way through Chiropractic School.  I met my late partner in 1986 and we started a Multi-specialty, Multi-office Rehab Practice offering: Orthopedics, Chiropractic, Physical Therapy, Electro diagnostic testing, Acupuncture, Massage and Family Medicine.  I retired in 2003 after battling some health issues.  I did quite a bit of Post Doctoral study in Neurology.  I remain current by reading the New England Journal of Medicine each week.  I was on the Medical Staff of the ING-New York City Marathon or four years, quite an experience!!  I am also in several Fraternal Orders, I am a Mason and an Elk.  The family moved to Myrtle Beach in 2004.  My wife is a Doctor of Chiropractic as well and is a Senior Instructor of Biology, Human Anatomy and Human Physiology at Coastal Carolina University.  Both my children also attend CCU.  I play saxophone in my church band.  I have always been a car guy!  The first car I bought myself was a 1984 VW Scirocco, then a Porsche 924S, then a Porsche 911, then a 944 Turbo, then a 2002 Boxster, then a 2006 Cayman S.  I am a 20 year member of the PCA and recently had to let my membership lapse after buying the New C7 in November 2013, it vexed me and I just had to have it!!
Ron Revere- 2006 Velocity Yellow Convertible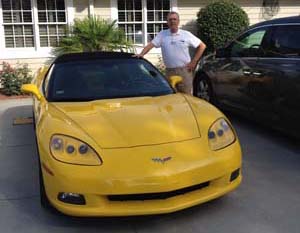 Ron is a retired high school Physics teacher from Arlington, VA. He and his wife Sandy (a retired elementary teacher) live the good life in Surfside Beach. His current car is a 2006 velocity yellow ragtop (previous cars include a 2002 millennium yellow yellow ragtop and a 1991 red ragtop) which he drives every day. Ron currently teaches part-time for CCU as an Adjunct Professor of Astronomy. That gets him out of the house and from under foot on Tuesdays and Thursdays. He also teaches Astronomy and Physics to other seniors at the Litchfield OLLI Center for CCU on Wednesday evenings. He loves driving the vette!
Larry and Cindy Baine- 1999 Magnetic Metallic Red Coupe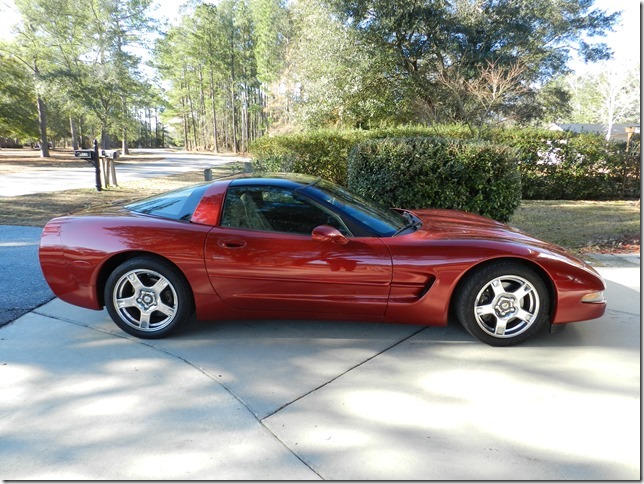 Larry was born in Dillon, S.C. and moved to Seattle, Wa. as a youth with his Father. Growing up in the Pacific Northwest, he spent his summers here in S.C. with his Grandparents. He is a graduate of UCLA with a degree in Materials Engineering and a specialty in Metallurgy. Having spent most of his adult life working in the aircraft and spacecraft industry, he has lived and worked in Illinois, Michigan, California, both Carolinas, Georgia, and New Mexico. Cindy was born and raised in Cincinnati, Ohio. She graduated from Miami University (Ohio) with a degree in Elementary Education. Cindy was named Woman of the Year by the American Business Women's Association, has been Employee of the Year, and with Larry, was the co-owner of one of the largest diaper services in the southeast for 7 years covering from N.C. to Charleston and the coast west to Florence. Currently, together they manage the affairs of over 35 homeowner associations throughout the Grand Strand. Having met in Charlotte and been married 30 years, they have resided in Conway for the past 10 years. Hobbies include the design and building of marine aquariums and living coral reefs, currently with 5 operating aquariums in their home up to 220 gallons in size, and Larry is a musician (drummer) as well. Cindy is a Yoga study of 10+ years, doing 5 to 6 classes a week. The current Corvette is a 1999 C-5 Coupe with approx. 20,000 miles on it. This is the sixth vehicle in the Corvette series for Larry (1967 427/435 ragtop, 1969 L36 427 Coupe, 1973 454 Stingray convertible, 1977 L82 Convertible, and 1979 L82 Stingray T-Top) . There is something special about the classics.