Pat & Darlene Hicks – 2015 Night Race Blue Coupe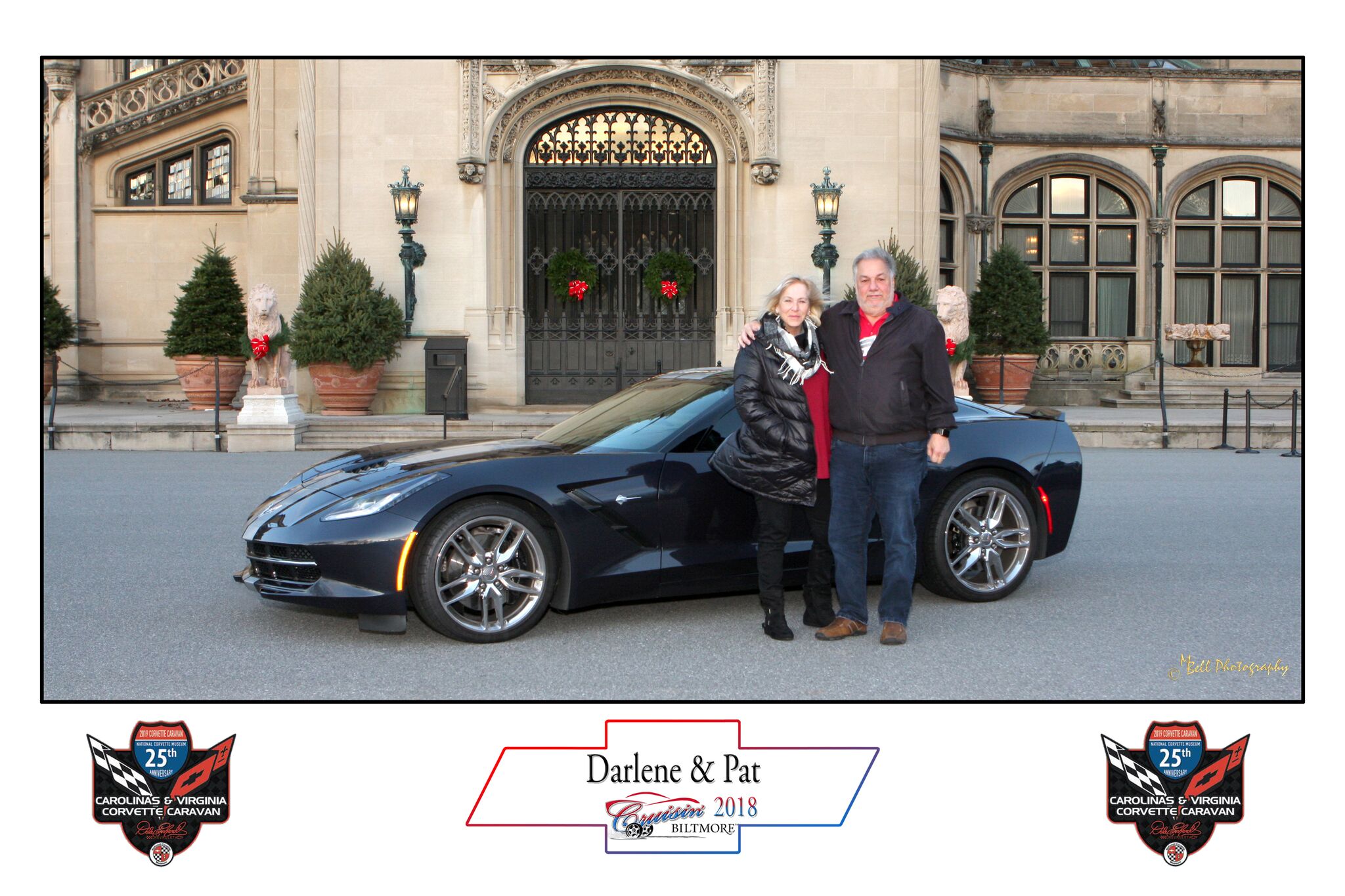 Pat was born in Rockaway Beach, NY and Darlene was born in Washington, DC we met after graduating High School and married in 1972. Darlene worked her way up from a receptionist at the National Sheriffs' Association to the Position of Director of Finance where she worked until 2012 when she went part-time. Pat worked for Potomac Electric Power Company (Washington, DC) in Operations for the first 27 years and then working in the Information Technology field for the last 10 years. He retired in 2007 and became a Real Estate Agent for Exit Realty. They live happily in Murrells Inlet and have two daughters, one son-in-law and three grandchildren.
George & Debbie Washnak – 2017 Admiral Blue Grand Sport Coupe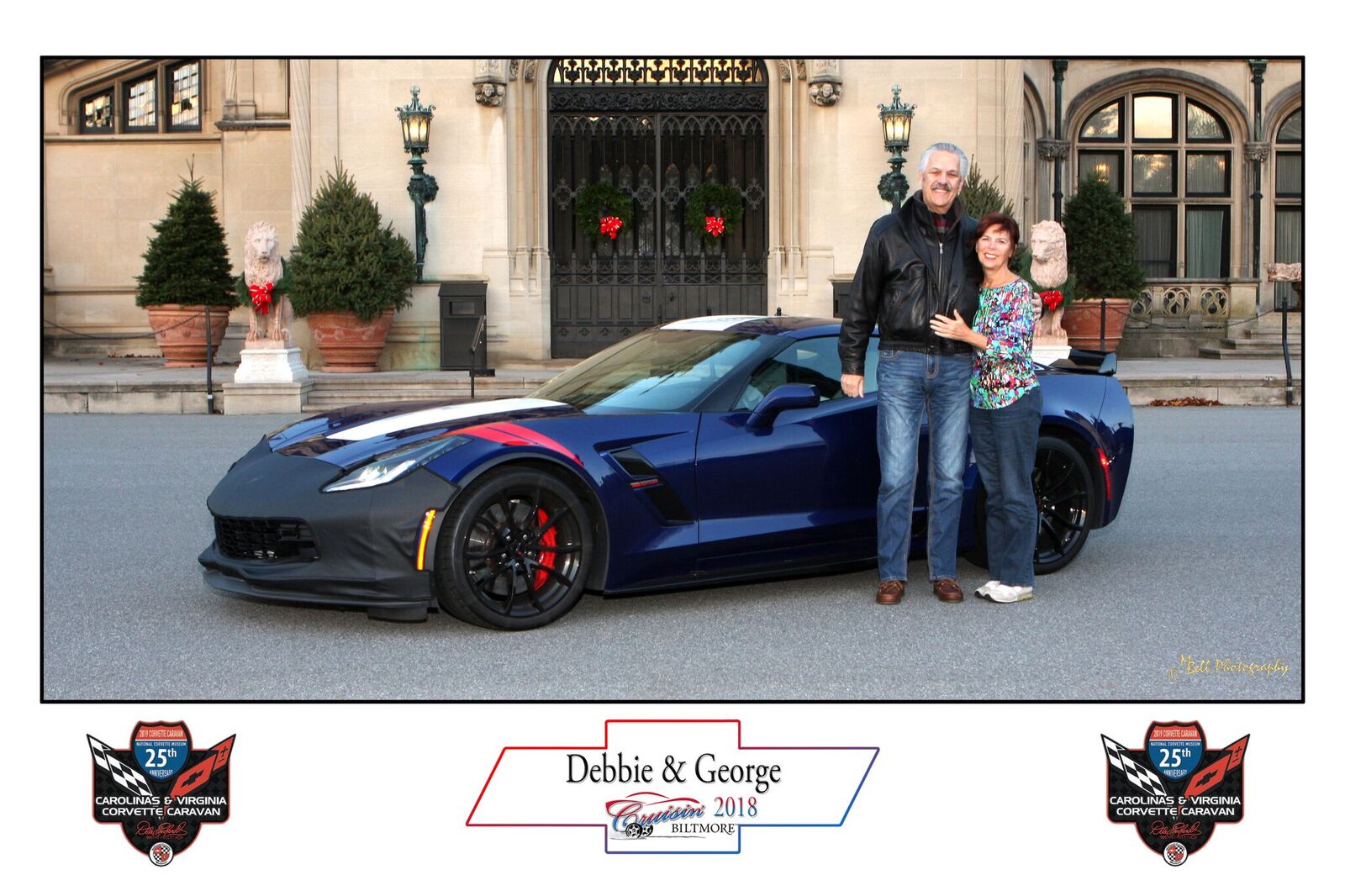 Debbie and George were both born in Detroit, Michigan. Both of us are degreed accountants and met at work. We were married in 1981. After leaving Michigan we lived in Brownsville, Texas for three years (1981 – 1984) and then in the East Bay area near San Francisco, California from 1984 until 2012 when we both retired and moved here to Murrells Inlet, SC. We chose to join this club because of all of its social activities and the hope of meeting new friends that share a common interest in Corvettes.
David & Linda Smith – 2015 Shark Gray Stingray Coupe & 1988 – White 35th Anniversary Coupe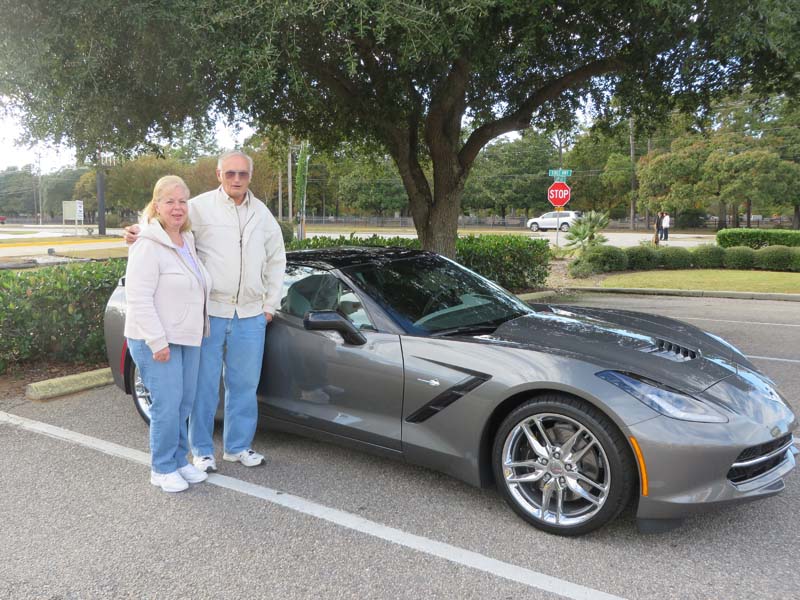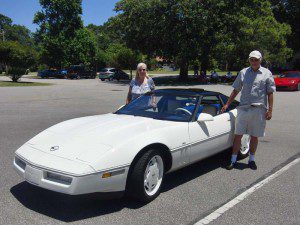 Both Dave and Linda were born in upstate New york. After graduation Dave served three years in the Army. Later he went to work for Stiefel Laboratories, working his way up to management, retiring in the fall of 2002 after 32 years with the company. After graduation Linda went to work for the N.Y.P.D. and then worked at Helenes Dress Shop where I met Dave in the fall of 1970 and we were married in May 1971. After our two girls were born I went back to work at Victory Markets, which later became Slaters Great American working in the receiving department, retiring in the winter of 2003 after 15 1/2 years. Our daughter Sherri and grandson Matthew live in central New York, our other daughter Cheryl and grandson A.J. live in Connecticut. We owned two other corvettes in the past, a 1982 coupe and then a 2001 convertible. Our 1988 35th anniversary is a special edition car, it's #352 out of only 2050 produced.
Mickey & Eileen Sharp – 2014 Night Race Blue Stingray Convertible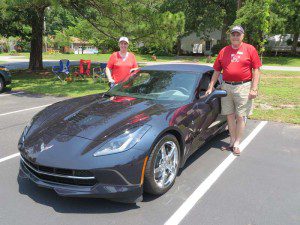 Eileen and Mickey were born and grew up on the North Shore of Massachusetts.  They met in 1961 and were married in 1963. Mickey spent his entire career in heavy manufacturing; steam turbines, printing presses and steel mill equipment. He retired in 2006 as Director of International Sourcing. Eileen spent her career in administrative positions retiring as Member Services for Corridor 9 Chamber of Commerce.
They moved to Conway from Grafton, Massachusetts when they retired. They have one son, Derek and 5 grandchildren from 23 to 13. Their first Corvette was a 1965 Convertible, along came our son and away went the Corvette. It was 2009 before they got back into a vette with a C4, then a C6 in 2010 and now a C7.
Dr. Dick Mgrdechian- 2014 Cyber Grey Stingray Coupe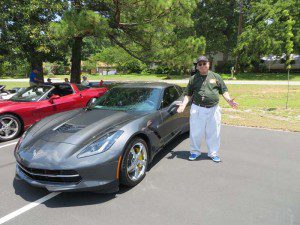 I was born in New Jersey, but, was raised on Long Island.  I went to undergraduate school at the University of Charleston where I obtained an A.S. degree in Radiology in 1978 and a B.S. degree in Biology in 1980.  While working for my BS degree I worked at the Charleston Area Medical Center; first operating a First Generation CAT Scanner and then in the Emergency Room X-Ray Department on weekends, midnight shift.  I attended New York Chiropractic College and Graduated in 1985, obtaining a License to Practice in October.  I operated newer full body CAT Scanner while working my way through Chiropractic School.  I met my late partner in 1986 and we started a Multi-specialty, Multi-office Rehab Practice offering: Orthopedics, Chiropractic, Physical Therapy, Electro diagnostic testing, Acupuncture, Massage and Family Medicine.  I retired in 2003 after battling some health issues.  I did quite a bit of Post Doctoral study in Neurology.  I remain current by reading the New England Journal of Medicine each week.  I was on the Medical Staff of the ING-New York City Marathon or four years, quite an experience!!  I am also in several Fraternal Orders, I am a Mason and an Elk.  The family moved to Myrtle Beach in 2004.  My wife is a Doctor of Chiropractic as well and is a Senior Instructor of Biology, Human Anatomy and Human Physiology at Coastal Carolina University.  Both my children also attend CCU.  I play saxophone in my church band.  I have always been a car guy!  The first car I bought myself was a 1984 VW Scirocco, then a Porsche 924S, then a Porsche 911, then a 944 Turbo, then a 2002 Boxster, then a 2006 Cayman S.  I am a 20 year member of the PCA and recently had to let my membership lapse after buying the New C7 in November 2013, it vexed me and I just had to have it!